12.BitMex mock investment site
The most important thing in trading is to know what you are doing. First of all, you need to know what to buy, when, how much, and how to sell what, when and how. Simply put, this is a trading strategy.
There are as few as millions of trading strategies in the world, and considering the variables, they are close to infinite. However, there aren't many strategies that really work. And traders who find a strategy that works well will use their own system to make money, and won't they expose it to the outside world?
Therefore, it is a space where you can create your own strategies and hypotheses through simulated investment and test them indefinitely without direct capital risk.
What is a mock investment?

- Mock investment refers to practicing using virtual money before actual trading.

- Since you are not trading using real capital, you can practice as much as you want without worrying about loss.

- The disadvantage is that if you are a discretionary trader, you must trade with real money directly to recognize its destructive power using leverage, and you can use a follow-up or counter-trend strategy while feeling the strength of the real market.

- BitMEX Mock Investment is a place where you can trade while exchanging the quantity of other users based on the self-developed testnet. Therefore, when making a real investment, the trading volume and price movement are very different.
When you create a mock investment account on BitMEX, you will receive a mock investment of 0.1 BTC.
Bitmex testnet address: https://testnet.bitmex.com/register/gtAdjx
Signing up is the same as signing up on the BitMEX Futures Exchange.
Below you will find detailed information on how to sign up!
1. Click the link and create an account!

- If you click the testnet address, the sign-up screen appears as shown below.

- Enter ID (e-mail) / password / English name / nationality and click Register to complete the generation of the gender!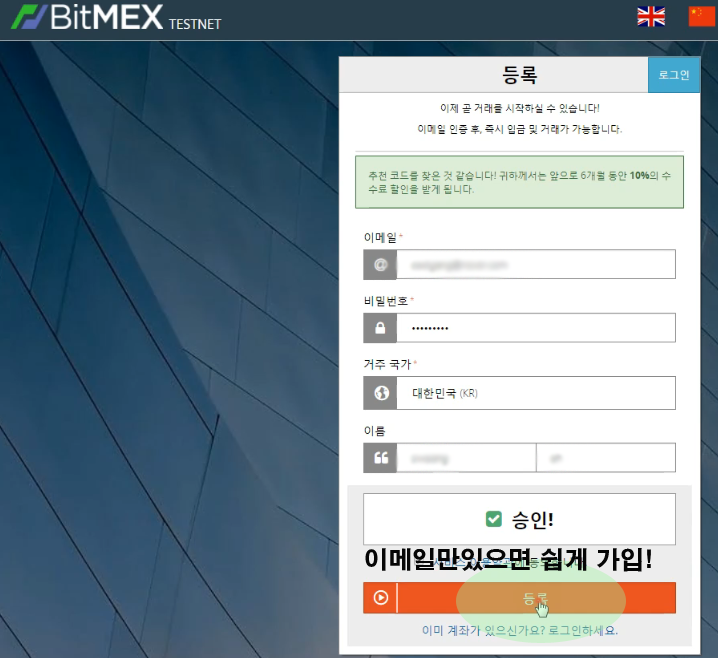 2. Email Verification

- If you click the Create Account button, you must verify your email.

- Go to the email address you signed up for, open the email sent to Bitmax, and click OK!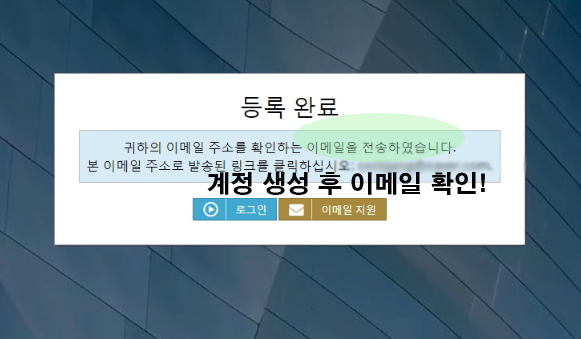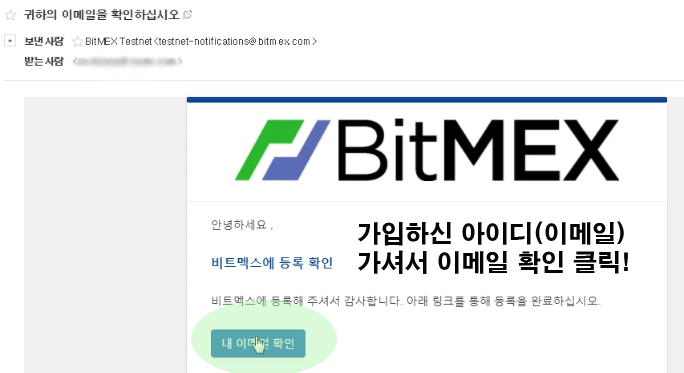 3. Receive BitMEX Test Money!

- When you log in, the BitMEX test basically pays 0.1BTC test money.

- You can use this to test as if you were actually trading BitMEX futures/margin.

- The test money has no value and cannot be deposited or withdrawn.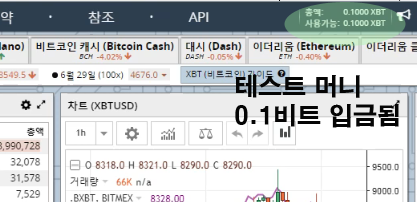 4. Start practicing mock investment!

- Now you can test your trading strategy to your heart's content!

- If you are a first time concubine, you can understand quickly by studying the links below!

-> How to place an order for BitMEX gift!

-> How to short buy BitMEX futures!

-> How to short sell BitMEX futures!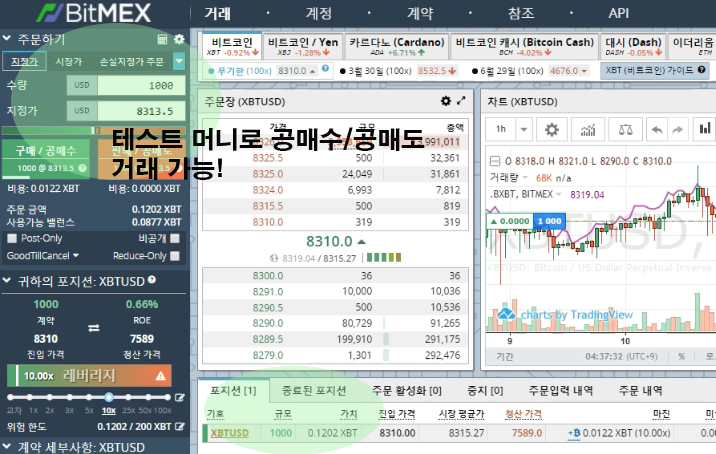 Next time, I will explain in detail about partial liquidation~ which is a kind of money management technique.
If you have any questions about how to do a partial liquidation, please click here!

2021년 해외코인거래소 순위 및 추천

거래량

11조(1위)

3.5조

9.5조

레버리지

최대100배

최대100배

최대125배

수수료

- 지정가 : 0.02%

- 시장가 : 0.04%(1위)

- 지정가 : -0.025%

- 시장가 : 0.075%

- 지정가 : -0.025%

- 시장가 : 0.075%

거래방법

현물+선물+마진

선물+주식+FOREX

선물

회원가입

할인코드