10. Elliott Wave Theory
◆ Before explaining the Elliott Wave
The Elliott Wave is a theory that a person named Elliott analyzed US stock indices for a long time and explained a single wave. A theory that explains a pattern.
This is a lagging indicator, and it is not very helpful for actual trading, but wouldn't it be a wave like this when planning a scenario in your head in the future? You can use it at a predictable level.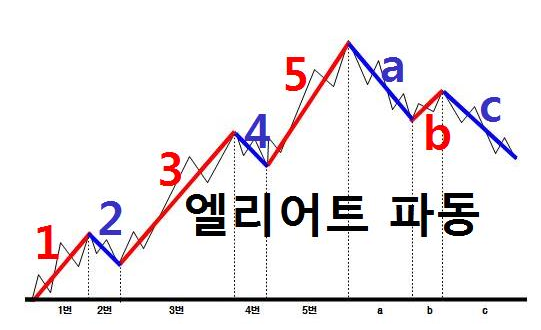 ◆ Elliot wave pattern
Wave 1) The first rise begins.
Wave 2) The retracement comes at the next Fibonacci ratio.
Wave 3) It rises as the buying trend is attached again, showing a higher rate of increase than Wave 1.
Wave 4) This section is an adjustment section to cool the overheated captain, and the low point is considerably higher than the wave 2 retracement.
Wave 5) ends the correction and rises again. The rise shows a smaller rise than wave 3. Since it has risen three times in this way, it is now changing into a downtrend pattern with many taking advantage of it.
◆ Don't use Elliot Wave
While the Elliott Wave Theory is very interesting, it is very inappropriate to apply it to trading.
It may be suitable for measuring the movement of stock indexes, etc., but if you insist on the Elliott wave in coin trading, you are immediately giving up on the return.
◆ If you want to be poor, use Elliot Wave.
Even Elliot, author of the Elliott Wave Theory, lived a poor life.
2021년 해외코인거래소 순위 및 추천

거래량

11조(1위)

3.5조

9.5조

레버리지

최대100배

최대100배

최대125배

수수료

- 지정가 : 0.02%

- 시장가 : 0.04%(1위)

- 지정가 : -0.025%

- 시장가 : 0.075%

- 지정가 : -0.025%

- 시장가 : 0.075%

거래방법

현물+선물+마진

선물+주식+FOREX

선물

회원가입

할인코드