9. Hyman Minsky Pattern
Hymean Minsky (1916-1996) an American economist who theorized the beginning, extension, and end of one financial economy under the logic that "the longer the boom, the more the recession" and organized it into the Hyman Minsky model.
The theory goes like this.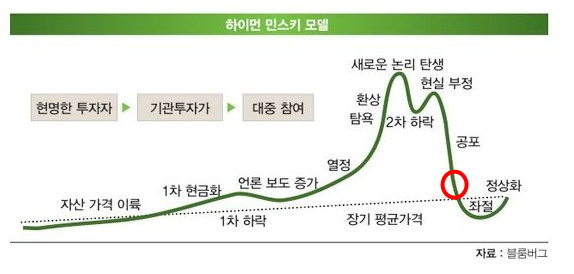 According to the theory, investors take out loans and invest in high-risk products when financial markets are booming. As a result, the financial market gains momentum and expands further and asset prices rise significantly.
However, when the economy worsens and investors do not get the desired amount of return, anxiety about debt repayment increases. At this time, investors even dispose of safe assets and repay their liabilities, which leads to tightening in the financial market and a fall in asset prices, leading to a financial crisis.
The reason why the Hyman Minsky model always appears in the Bitcoin market is that the charts are very similar. It must also be out of the normal range for almost all coin charts to have a similar shape.
2021년 해외코인거래소 순위 및 추천

거래량

11조(1위)

3.5조

9.5조

레버리지

최대100배

최대100배

최대125배

수수료

- 지정가 : 0.02%

- 시장가 : 0.04%(1위)

- 지정가 : -0.025%

- 시장가 : 0.075%

- 지정가 : -0.025%

- 시장가 : 0.075%

거래방법

현물+선물+마진

선물+주식+FOREX

선물

회원가입

할인코드