3. How to view the Bidding and Trading Window
There are various trading techniques such as bar charts, moving averages, MACD charts, etc. There is also a way to trade by looking at the bidding price window and trading window. This is the most intuitive and realistic method.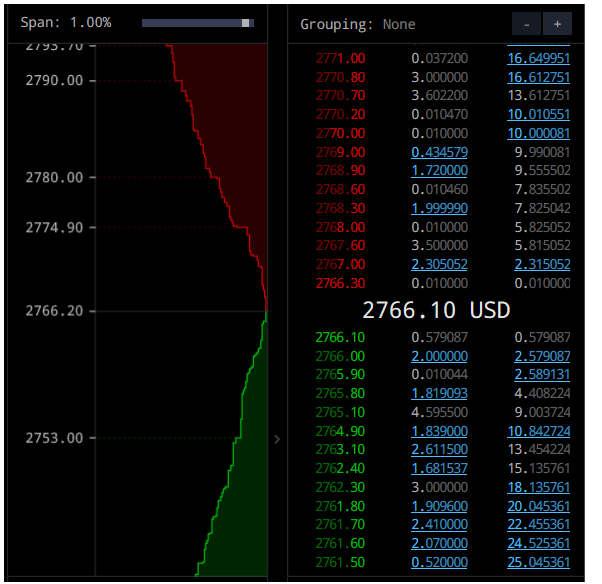 The above chart is a Bitfinex bidding window and trading window. Any exchange exists even if it is not Bitfinex.
If you look to the right, the bottom is the purchase price and the accumulated buying volume. The top is the selling price and the cumulative selling amount. It is possible to check at a glance whether there are many people who want to buy this, how much is the quantity, and how much is the price.
Bidding Window Trading Law
If there is a lot of selling, you can expect a decline and throw the quantity quickly. Or you can stop thinking about buying for a while. Conversely, if the selling wall is down, you can anticipate a down market and throw a price a little cheaper than the selling wall quickly. There is a way to buy by looking at it as . Or there is a way to stop selling for a while in anticipation of the price going up. This is relative and is only a reference indicator if there is no absolute.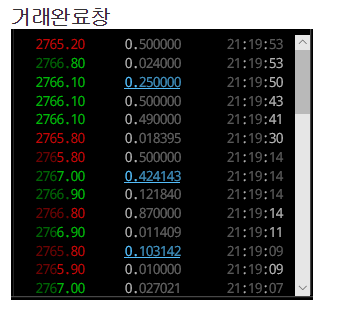 How to view the Trade Completion Window
The above bidding window and trading volume are trades that have not yet been concluded, and there is an imaginary number. Even if the powers build a wall, the wall is removed, so you must see the trade completion window where the actual trade is concluded after the asking price window and trading volume.
The trade completion window is the same as above. The rightmost part is the trading time. The middle part is the trading volume. And the leftmost green and red numbers are the trading price. For example, if the trade is completed in green text, it is a bull market, and if it is listed in red, it can be considered a down market.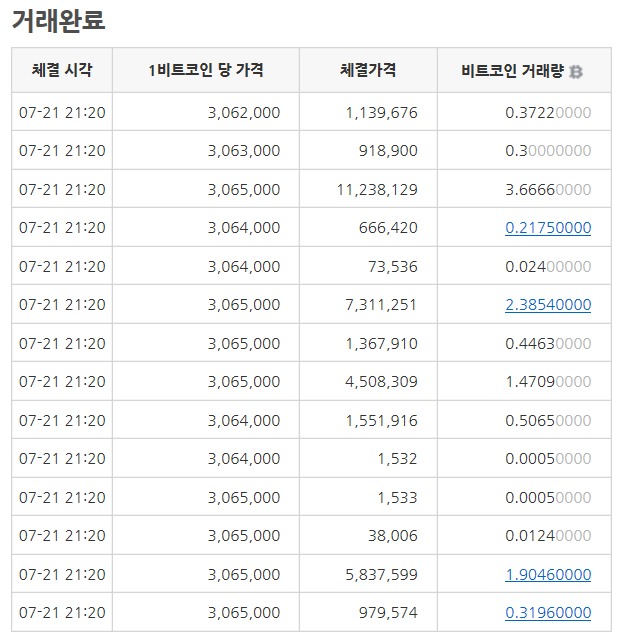 Bithumb bidding window, trading volume
This is the Bithumb bidding window and the transaction completion window. It has no color and has a less visual feel compared to overseas coin exchanges. In January 2018, GIMP fell below 5%, and domestic exchanges eventually belonged to overseas exchanges. You do not have to worry about the domestic exchange when doing BitMEX or trading at a domestic exchange. Just look at Bitfinex and Poloniex and trade. It means that there is no influence or ripple effect on the domestic exchange.
2021년 해외코인거래소 순위 및 추천

거래량

11조(1위)

3.5조

9.5조

레버리지

최대100배

최대100배

최대125배

수수료

- 지정가 : 0.02%

- 시장가 : 0.04%(1위)

- 지정가 : -0.025%

- 시장가 : 0.075%

- 지정가 : -0.025%

- 시장가 : 0.075%

거래방법

현물+선물+마진

선물+주식+FOREX

선물

회원가입

할인코드