6. How to use TradingView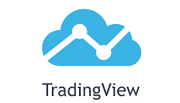 2 reasons to use TradingView
for chart analysis.

View chart information analyzed by other professional trainers
**Trading View: https://kr.tradingview.com/
Yes. Trading View provides chart analysis services for various items such as futures, foreign exchange, and stocks, as well as Bitcoin, as well as analysis of professional traders.
Now, this is an introduction to how to set up chart analysis through Trading View and how to view other analysis articles.
(1) How to view the TradingView chart
You can browse Trading View without signing up for it. Click the search box at the top to select stocks as shown above. Since Bitcoin/US is located at the top, click without searching! You can do it.
EOS for EOS / Ethereum for ETH.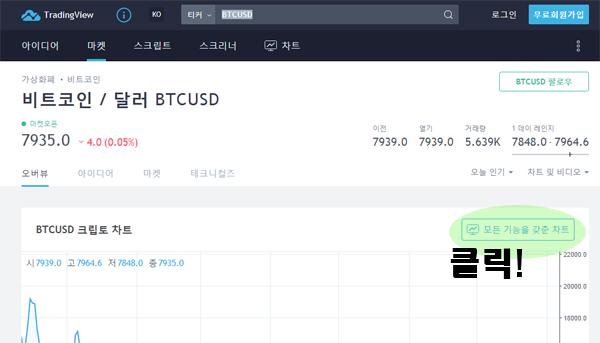 'Click 'Full-featured Chart'!
If you do this, the most basic chart screen of Trading View appears, where you can activate various auxiliary indicators for chart analysis.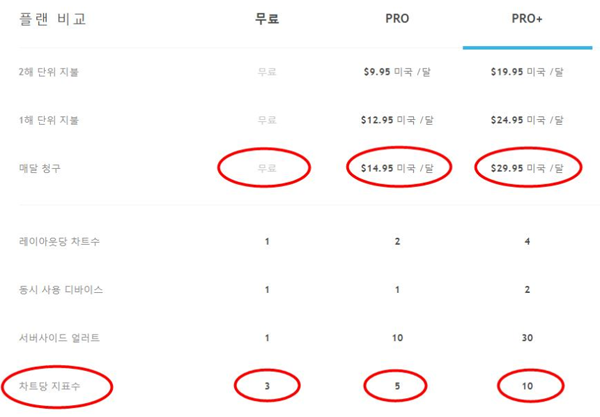 (2) TradingView free vs paid
Wait a moment! Trading View can be used for free, but in the case of a free member, only 3 auxiliary indicators can be activated. For more than that, you need to sign up for a paid membership, and you can use the free service at first and then change to a paid service if necessary. I will activate the 3 auxiliary indicators I use mainly on the chart.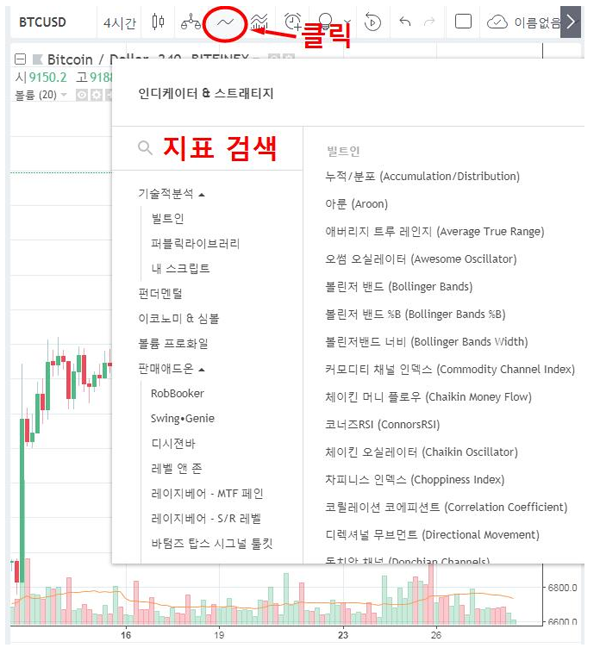 Click the button above! and enter the abbreviation of the sub-indicator to activate the corresponding sub-indicator. Same as the Bithumb and Upbit method.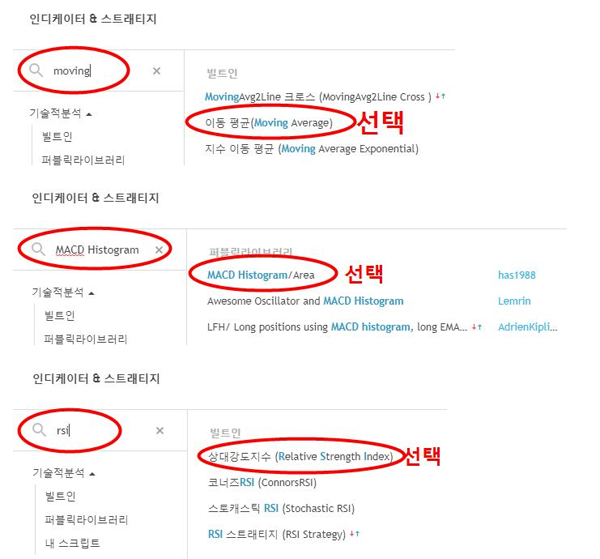 In this way, the three auxiliary indicators are activated.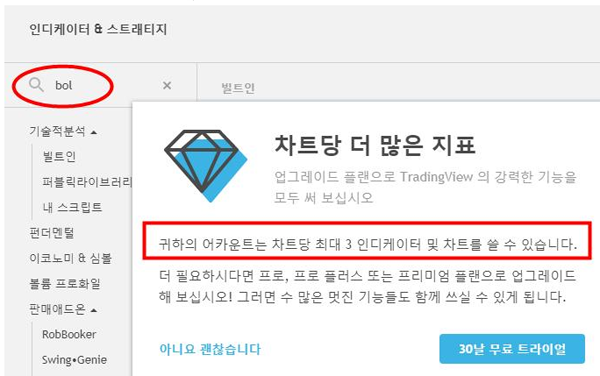 If you want to activate the 4th sub-indicator, you will see a guide to sign up for the paid version as above. Again, you can only have 3 free members.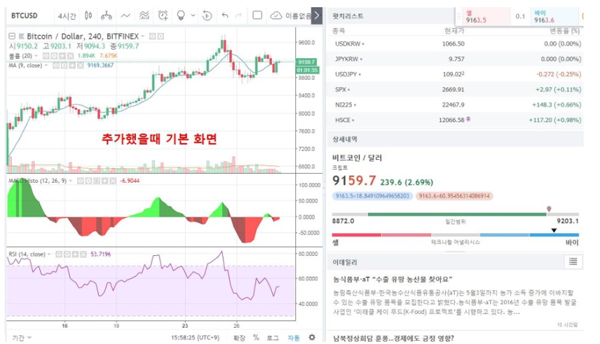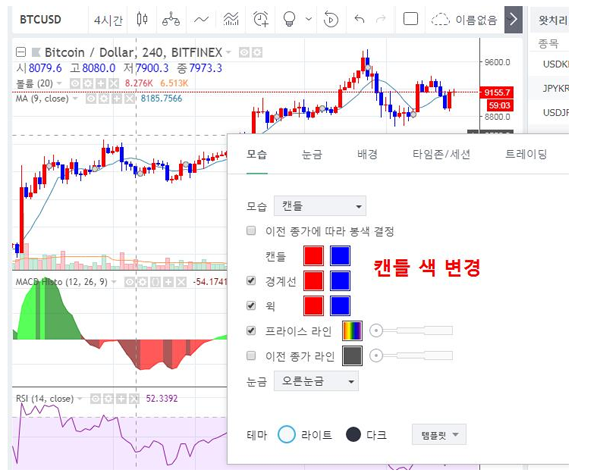 (3) Trading view chart auxiliary indicator setting
Then, once you have added the auxiliary indicator, you need to set it accordingly. Basically, for easy viewing, the beekeeper is set to red, and the negative bar is set to blue.

Next, the 60-day moving average is written in blue as the 60-day moving average. Usually, the 60-day moving average and the 20-period moving average are used at the same time. These are included in the number of auxiliary indicators, respectively, so only one 60-day moving average is added.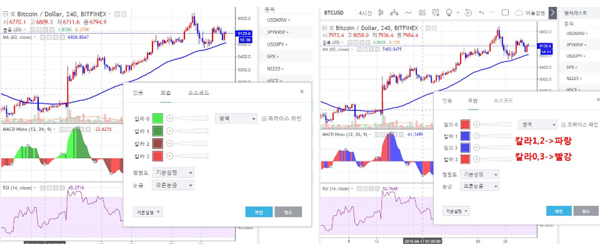 The following MACD rods are made in blue for color 1 and 2 and red for color 0.3 for easy viewing.
Done!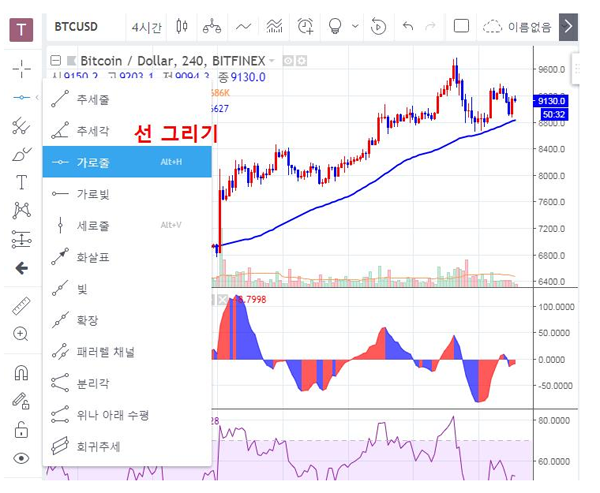 Then you can see the chart in which the three auxiliary indicators are activated, and you can draw a trend line here.
So far. Next, let's browse other expert articles through Trading View.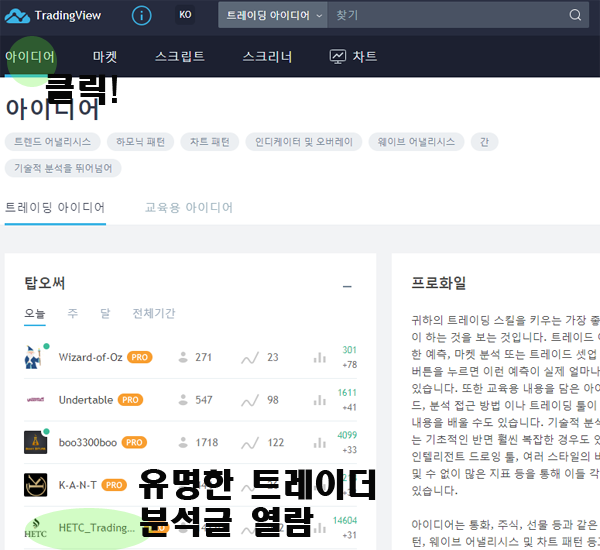 (4) Reading the analysis of traders specialized in Trading View
Main -> Ideas
When you move, you will see a list of famous traders on the first screen. Click on the hard-working 'HETC_Trading' analyst.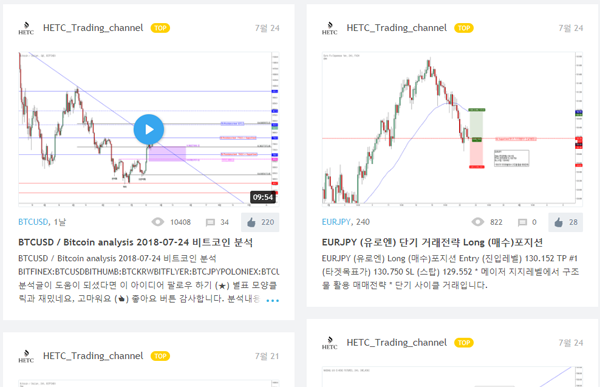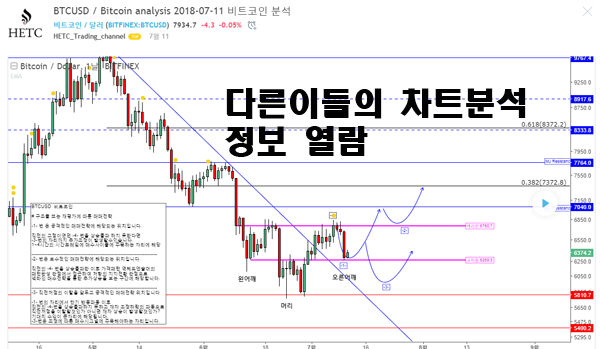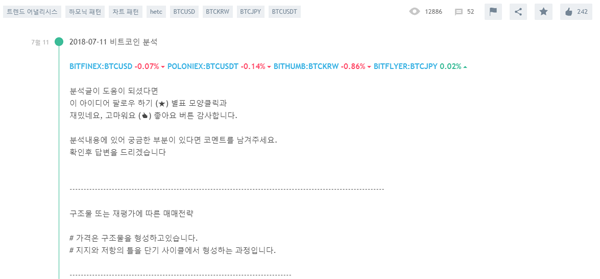 In this way, it is possible to view the analysis by showing the chart according to the passage of time.

You can follow just like Twitter, so if you follow those who are good at chart analysis, it will be of great help to you when you trade later when you enter Trading View and read the analysis..
This is it.
*Trading View: https://kr.tradingview.com/
2021년 해외코인거래소 순위 및 추천

거래량

11조(1위)

3.5조

9.5조

레버리지

최대100배

최대100배

최대125배

수수료

- 지정가 : 0.02%

- 시장가 : 0.04%(1위)

- 지정가 : -0.025%

- 시장가 : 0.075%

- 지정가 : -0.025%

- 시장가 : 0.075%

거래방법

현물+선물+마진

선물+주식+FOREX

선물

회원가입

할인코드