11. BitMEX funding fee
This time, we will talk about BitMEX funding fee!
What many people confuse the most is what funding fee is and why it is needed.
This is because those who are new to margin trading may not be familiar with the concept.
So, why is the funding fee system necessary in the BitMEX Funding Fee posting?
And I'll tell you exactly how it works!
Why is there a funding fee?

- First of all, there are cryptocurrencies such as Bitcoin, Ethereum, Ripple, etc. that are traded on the BitMEX exchange.

- When you trade each virtual currency, it is like trading an index that tracks the price of each coin, rather than actually holding them as spot in your wallet.

- These are financial products that track the price based on the price movement of each coin, and are derivative products called futures.

- Derivatives can be both long and short, and provide traders with leverage based on margin.

- However, since derivatives are price-tracking products, there is often a discrepancy with the price of the spot. In technical terms, this is called Contango.

The funding fee is a system introduced to minimize the price gap between spot and futures.
How does funding fees work?

-Funding fee is paid or received 3 times a day at AM 5:00 / PM 1:00 / PM 9:00 Korean time.

- If you hold a position during the time period, you can pay or receive the funding fee. The position has no effect unless you have closed or held it before that.

- This is a case of exchanging a fee between a short position and a short position, and one side is deducted and the other side receives it. If the funding ratio is positive, the buyer pays the seller. Conversely, if it is negative, the seller pays the buyer.

- The size of the position is $10,000 when entering the position with 10x leverage of $1,000. However, funding fees can be charged or received on a $1000 basis rather than on a $10,000 basis (Funding Fee = Position Size X Funding Ratio).

Funding fees are paid or paid out 3 times a day.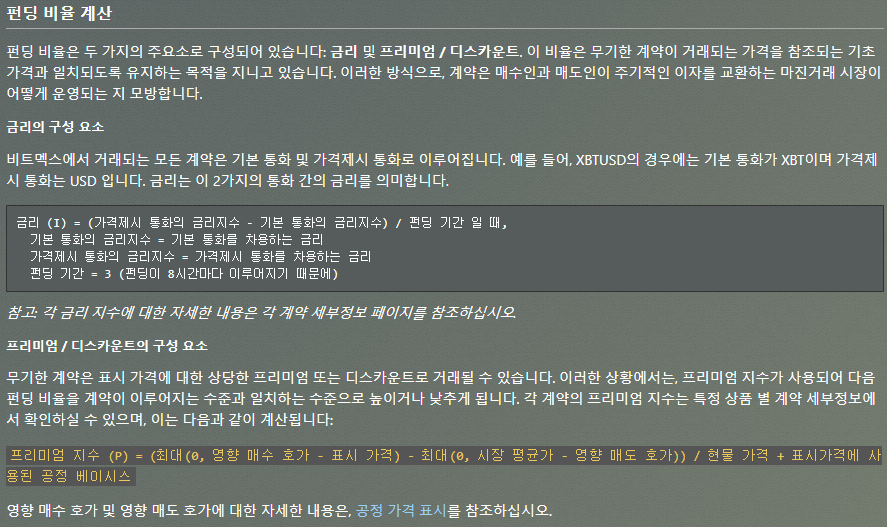 (How to Calculate Funding Ratio)
Now let's see it together with an example of real trading!
1. Short position

- In the image below, you entered a short position with 10x leverage of $1000

- In the lower left corner, the funding cost is calculated in real time and shown to users.

- The remaining time is about 30 minutes, and if you maintain your current position, you will pay 0.1702% of 0.8923XBT, or 0.0015XBT, as a funding fee.

- The paid funding fee is paid to traders who took short positions.

- What you can see here is whether the direction of the position you entered will pay or pay the funding fee by checking the color of the funding rate % at the bottom left. Red is payment, green is payment.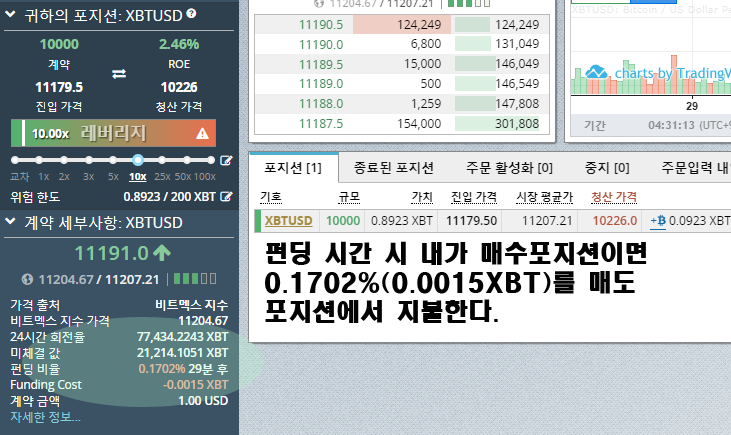 2. Short position

- Conversely, it is a picture of entering a short position. In this way, you will receive a funding fee from traders who have entered a short position.

- In the lower left corner, as you can see, the funding cost item is displayed in green.

- Before the funding time, many traders enter a position for the funding fee or close their position because they do not want to pay the funding fee. So when each funding cycle is reached, somewhat like a war, occurs.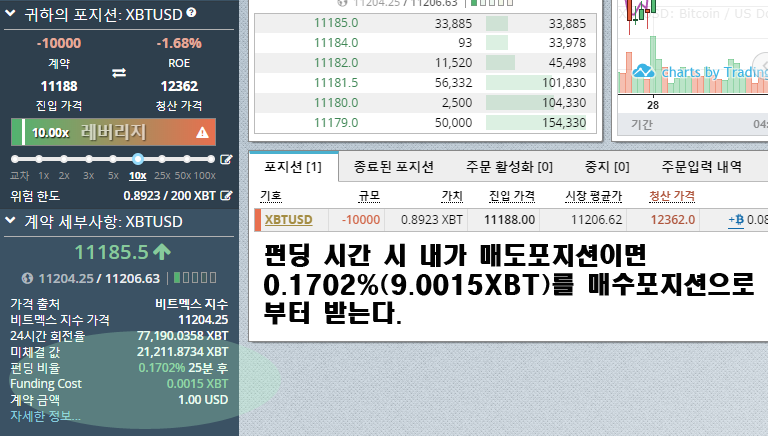 - If you click "More information" in the lower left corner, you can know more detailed information as shown below.

- If you click "Funding Details" among them, you can view the funding fee payment/payment record for each coin currently supported by the BitMEX Futures Exchange.

- Here, you can aim for the funding cost and try to make a stable profit by entering the market for a short time according to the funding fee of each coin.

- However, there are other traders who are aiming for this, so there is no guarantee that it will be 100% successful.

So far, we learnt about BitMEX Futures Exchange Funding Fee!
Next time, on the BitMEX testnet before injecting real funds,
We will talk about how to make a mock investment!
Click here to learn how to simulate BitMEX!
2021년 해외코인거래소 순위 및 추천

거래량

11조(1위)

3.5조

9.5조

레버리지

최대100배

최대100배

최대125배

수수료

- 지정가 : 0.02%

- 시장가 : 0.04%(1위)

- 지정가 : -0.025%

- 시장가 : 0.075%

- 지정가 : -0.025%

- 시장가 : 0.075%

거래방법

현물+선물+마진

선물+주식+FOREX

선물

회원가입

할인코드