00. BitMEX Leverage
Last time, we learned about BitMEX margin trading~
This time, we will explain in detail about BitMEX Leverage!
Before that, let's find out what leverage is.
What is leverage?

Leverage is money or margin borrowed from an exchange in the short term based on margin. And here, funds that can be borrowed up to several multiples are called leverage.
BitMEX is the oldest futures exchange in the cryptocurrency market.
In the futures exchange, you can buy long (short) and short (sell short).
You can use leverage from a minimum of 1x to 100x!
Below is the BitMEX Perpetual Contract Chart!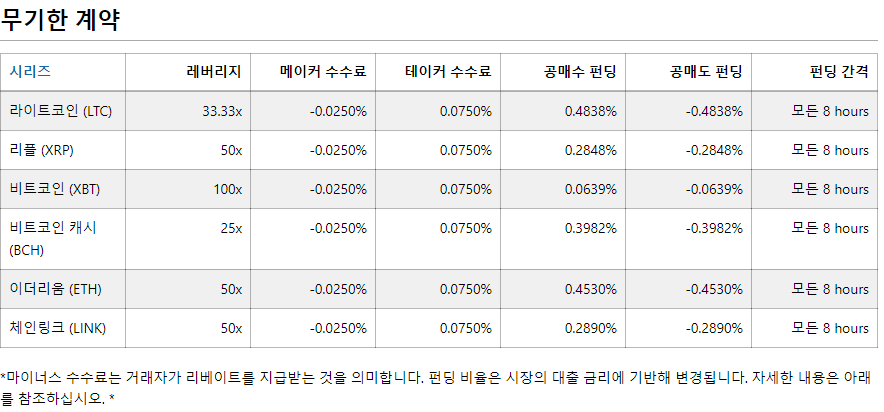 Currently, BitMEX supports 6 cryptocurrencies!
You can see that each coin has a different leverage ratio~
This is a level measured considering the transaction volume and reliability of the coin!
In addition, you can see that the funding fee is slightly different!
Click here for funding rates!
Next, let's see how to use BitMEX leverage!
How to use BitMEX Leverage!
First, enter the amount of investment you wish to place an order.

Second, click the gauge where you can set the leverage ratio and set the leverage ratio left and right!

Third, you can choose the direction of your desired investment position by buying or selling!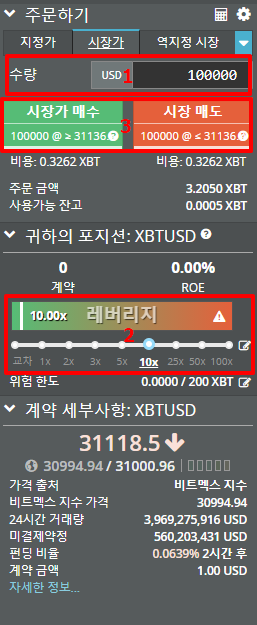 Here's something to watch out for!
Before using BitMEX margin trading and leverage
Be sure to read the following~
Precautions before using BitMEX Leverage!

1. Transaction Fee

- If you use leverage, the fee will increase accordingly.

- If you place an order at market price, the fee is 0.075%, but if you use 10x leverage, you may be charged a fee of 0.75% of your investment.

- It may seem small, but frequent trading will incur a considerable fee, which can be a factor in reducing the rate of return.

2. Funding fee

- The funding fee is a certain part of the investment amount paid or paid every 8 hours.

- This is a function that minimizes the gap between spot and futures.

- If you maintain an investment position for a long time, you can continuously pay a portion of the investment due to the funding fee.

3. Excessive leverage

- You can get more profit through the amplified volatility using leverage, but it can explode on a huge scale when a loss occurs.

- It is a shortcut to failure when excessive leverage is used due to human greed and thrill.

- We recommend that you invest with appropriate leverage with risk management and clear investment principles.
So far, we learnt about BitMEX leverage~
Next time, I will tell you how to register as a member on the BitMEX exchange!
Click here to learn how to become a member!
2021년 해외코인거래소 순위 및 추천

거래량

11조(1위)

3.5조

9.5조

레버리지

최대100배

최대100배

최대125배

수수료

- 지정가 : 0.02%

- 시장가 : 0.04%(1위)

- 지정가 : -0.025%

- 시장가 : 0.075%

- 지정가 : -0.025%

- 시장가 : 0.075%

거래방법

현물+선물+마진

선물+주식+FOREX

선물

회원가입

할인코드