8. BitMEX Margin Call
What is a Margin Call?

The leverage used for margin trading on BitMEX is the amount of money borrowed from the exchange using your cryptocurrency as collateral. If there is not enough collateral while there is a loss in the position you invested in, the exchange will liquidate the trader's collateral.

If the balance goes negative, the trader is effectively in debt to the exchange. However, it is very difficult to get this amount back because the exchange operates for global investors. If so, would it be a big loss on the exchange side?

Therefore, before the balance goes negative, the position you hold is forcibly liquidated at the market price. This means that all the invested funds will be decomposed.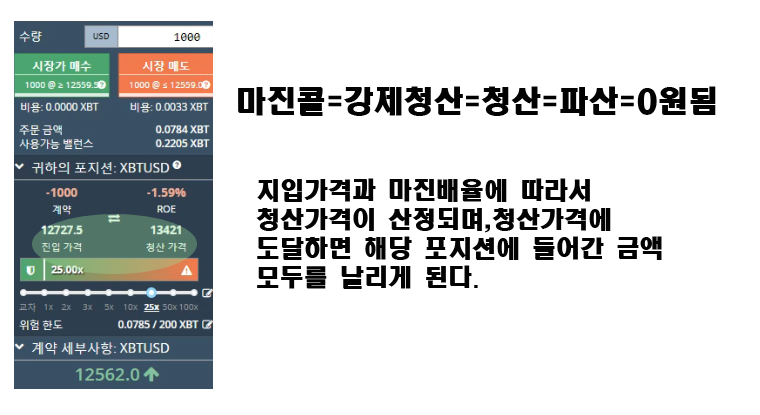 BitMEX Exchange offers leverage from 1 to 100x.
And the forced liquidation price fluctuates depending on the multiple of the leverage you use.
The higher the leverage multiple, the narrower the gap between the entry price and the exit price.
This means that the probability that a margin call will occur increases.

As above, it is an image of short selling at a rate of 25 times at the average market price (12727.5) of 1000 dollars.
The entry price is listed at $12727.50 and the exit price is $13421.
Margin call% = (liquidation price - entry price) / entry price

(13421-12727.5)/12727.5 = 5.44%

A margin call occurs when Bitcoin rises by only 5,44%.
Funds from institutional investors are gradually coming into the asset class called cryptocurrencies. However, the proportion of individuals is still high, and the market with a high proportion of individuals is usually very volatile. Cryptocurrency was born in 2009 and has shown a tremendous increase in the long-term time series so far.
However, the downside also occurred -90% and many altcoins disappeared. Therefore, you need to manage risk thoroughly and have clear investment principles to survive in this market.
Margin calls are one of the many risks.
It is not uncommon to lose all of your funds in one shot, such as a margin call.
In this way, only a portion of the investment
Proper use of leverage is the key.
Next time, we will tell you how to prevent margin calls and some great tips!
2021년 해외코인거래소 순위 및 추천

거래량

11조(1위)

3.5조

9.5조

레버리지

최대100배

최대100배

최대125배

수수료

- 지정가 : 0.02%

- 시장가 : 0.04%(1위)

- 지정가 : -0.025%

- 시장가 : 0.075%

- 지정가 : -0.025%

- 시장가 : 0.075%

거래방법

현물+선물+마진

선물+주식+FOREX

선물

회원가입

할인코드