14. Ichimoku Equilibrium Trading Act
◆ The Cloud method
As the flower of the Ichimoku Equilibrium table, the leading span between 1 and 2 is called the cloud, and when this cloud twists and changes into another cloud, it is regarded as a trend change and the timing to buy or sell is set at this time.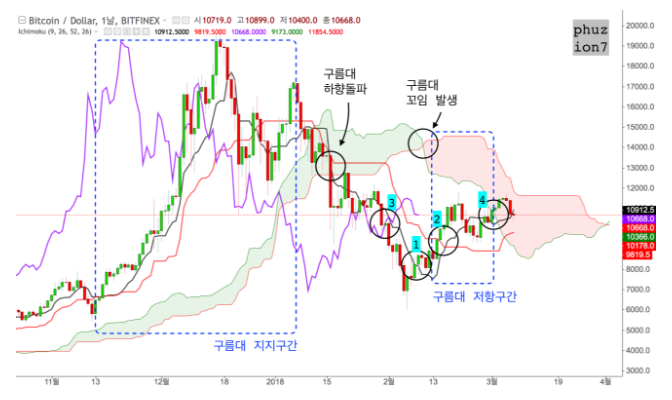 ◆ Trading Timing
*Buy Timing: When the cloud is twisted in a bear market
*Sell Timing: When the cloud is twisted in a bull market
At this time, the thicker the cloud, the higher the reliability. Then, which cloud is drawn on the chart?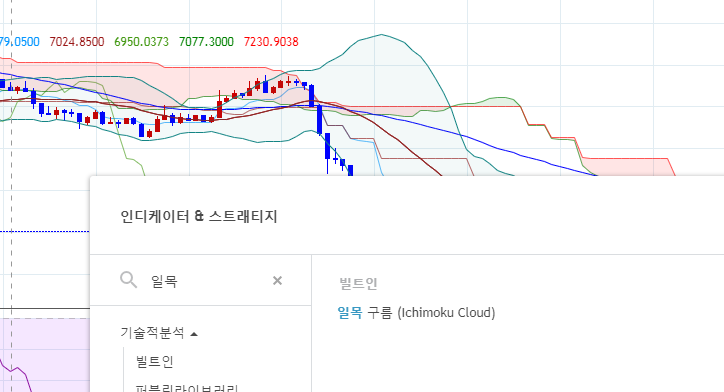 ◆ Trading view settings
Ichimoku Cloud cannot be set in Bithumb, Fifa, or Upbit. If you enter 'ichimoku Cloud', the English name of the Ichimoku table through TradingView, leading spans 1 and 2, and transition lines, baselines, and trailing spans are displayed on the chart. It is displayed and can be used for trading.
Please refer to the following article for an explanation of terms and detailed concepts of the Ichimoku Balance Table.
*Ichimoku balance table concept: http://coinpick.com/chart_IKH
2021년 해외코인거래소 순위 및 추천

거래량

11조(1위)

3.5조

9.5조

레버리지

최대100배

최대100배

최대125배

수수료

- 지정가 : 0.02%

- 시장가 : 0.04%(1위)

- 지정가 : -0.025%

- 시장가 : 0.075%

- 지정가 : -0.025%

- 시장가 : 0.075%

거래방법

현물+선물+마진

선물+주식+FOREX

선물

회원가입

할인코드