5. Withdraw BitMEX
This time, I will tell you how to withdraw money from the BitMEX exchange!
BitMEX withdrawals are operated in the same way as deposits.
The only difference is that in the case of deposit, it is not a 24-hour free withdrawal,
It will be sent to users who requested withdrawal at 10 pm Korean time!
For detailed withdrawal methods, refer to the images below and find out together!
How to withdraw from Bitmex Exchange
1. First of all, click "Account" on the main page!

Then, select the balance (balance) and press withdraw~
2. Before withdrawing money, it is a good idea to have a bitcoin address ready to send money to!

Below is my Bithumb Bitcoin address and copied the address before withdrawal.

3. Now, on the BitMEX exchange withdrawal confirmation screen, enter the address and amount to withdraw

After setting the fee, enter the Google OTP 6-digit number to complete the withdrawal request!
Destination address: Both personal wallet and other exchange wallet addresses can be entered. Be sure to check whether it is a Bitcoin-only wallet, and double-check that the address is correct before entering it!

Amount: You can freely enter the amount you wish to withdraw.

Bitcoin network fee: If there is no BitMEX fee for the fee, BitMEX recommends 0.0062 for Bitcoin's own transaction, that is, if there is only a network fee, the fee may be set higher than this when there is a lot of traffic.

Two-factor authentication token: This is a space to request the Google Authenticator's 6-digit authentication code.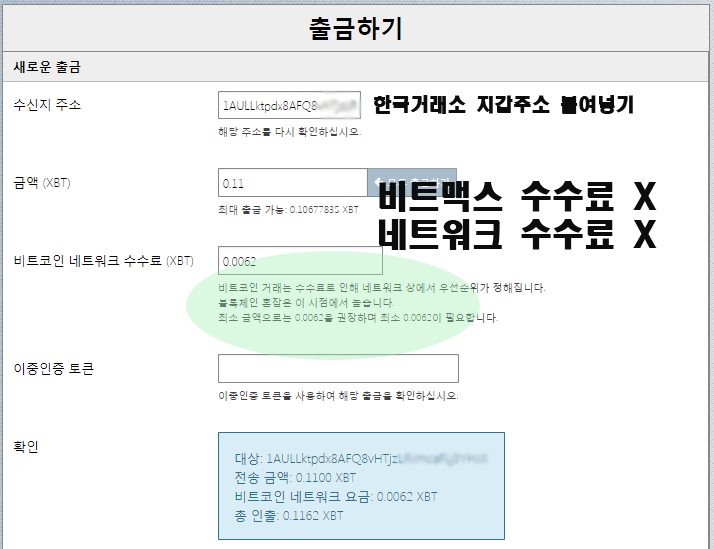 4. After applying for withdrawal, a confirmation message is sent via email.

This can be seen as a double or triple protection for the protection of funds.

Even if it bothers you, for a safe transaction, you can confirm the withdrawal request by email!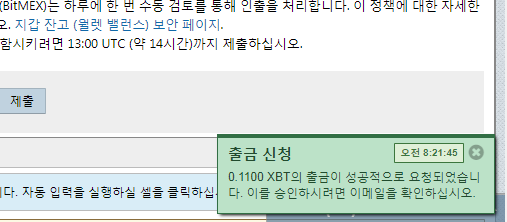 Click Confirm Withdrawal in your BitMEX email!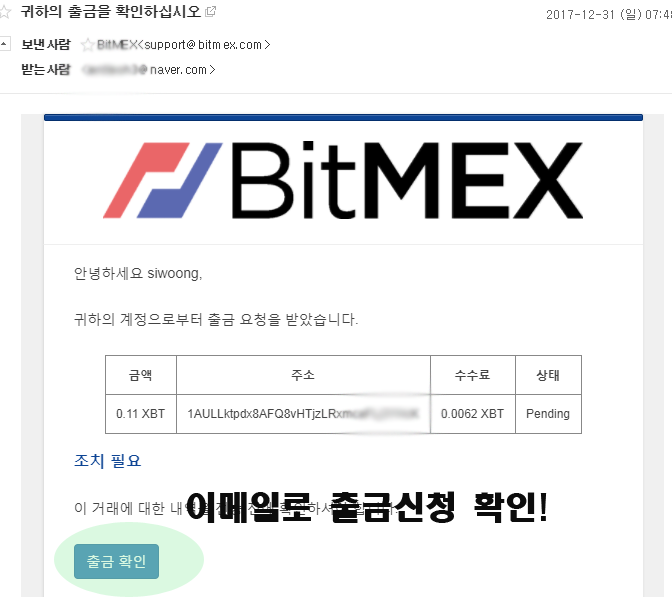 Finally, check the payment~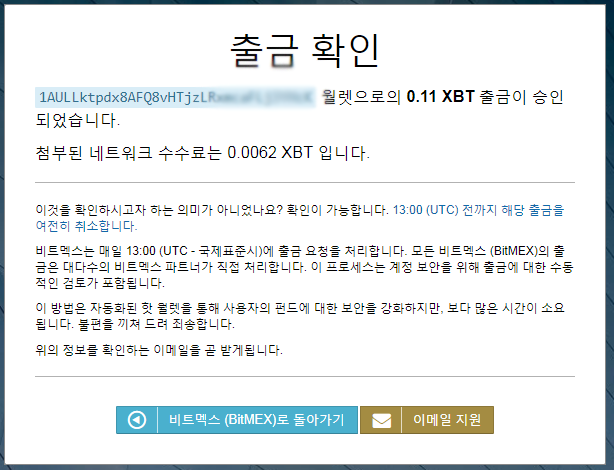 5. Now, you have completed the withdrawal application and verification!

Now, if you applied before 10pm, your withdrawal will be at 10pm today.

Or, if you applied after 10pm, tomorrow at 10pm

Withdrawals will be processed collectively on the BitMEX exchange.

It takes up to 2 hours to receive the withdrawal to the exchange wallet you applied for!

Now if you know how to place an order and know how to withdraw the proceeds
You should know how to actually buy and sell short and how to use it, right?~
Click here to learn how to short buy on the BitMEX exchange!
2021년 해외코인거래소 순위 및 추천

거래량

11조(1위)

3.5조

9.5조

레버리지

최대100배

최대100배

최대125배

수수료

- 지정가 : 0.02%

- 시장가 : 0.04%(1위)

- 지정가 : -0.025%

- 시장가 : 0.075%

- 지정가 : -0.025%

- 시장가 : 0.075%

거래방법

현물+선물+마진

선물+주식+FOREX

선물

회원가입

할인코드